MX-Designs 2-Way Systems



Introducing the most revealing, flexible audiophile 2-way speaker systems you have ever seen. No other manufacturer comes close.
MX Designs Reveals Options
Choose the woofer that best fits your car.
2" mid/tweeters or 1.1" silk tweeter
Add the other size speaker later for a simple 3-way upgrade
CDT Audio MX-2 Systems install effortlessly and allow you to customize your upgrades.
Flexibility Defined
MX-2 audiophile speaker systems do what the others don't.
Many cars today come with a large format tweeter. We address this with a 2" mid/tweeter. Experience stunning midrange vocal clarity.
For cars that don't have a separate tweeter you can get that with no permanent changes to the interior. MX-1ii 1.1" silk dome imaging tweeters make it sweet and painless.
Upgrade to a 3-way system at any time! Keep the entire system in place and add the missing drivers. Adjust the MX-1000SX crossovers and off you go.
The 4 facets of MX-Designs

Flexibility. We can't stress this enough against competing systems. These systems can be tailored for anything you want, even as a2-way that can be upgraded to a 3-way.

The most powerful and flexible 3-way/2-way crossover on the market, the MX-1000SX.

The incredible 2" mid/tweeters, available in flush mount or pods. Quick installation on to the kick panels or in a factory midrange location.

1" Imaging tweeters that install with literally zero holes to drill.



BMW 330CI MX-3HDPod System Installation: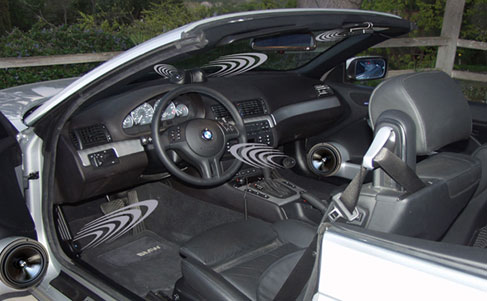 BMW X3 MX-1i Image Tweeter Windshield Mount
BMW X3 MX-1i Image Tweeter/
CS-020X Center Stage Install

BMW X3 MX-2Pod 2" mid twtr kick panel mount

BMW-X3 MX-2 2" mid-tweeter
door mount